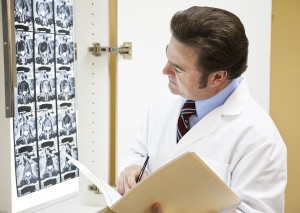 The history of chiropractic care goes back to 1895 but has developed since then as the knowledge of the human body has increased.
D.D Palmer of Iowa is credited with being the first chiropractor and it was in 1895 that he completed his first treatment and the adjustment helped restore the hearing of a deaf janitor. Prior to this Palmer was a magnetic healer but it was when he came across the Janitor Harvey Lillard that he heard from him the story of how he had felt a pop in his back and found himself deaf: Palmer correctly surmised that there might be a misalignment in the spine and this was what was causing the deafness. Many questioned how this alignment could affect a change in the brain such as hearing but Palmer was convinced of the value of chiropractic adjustment and later declared that it could 'cure all diseases for the human race'.
D.D Palmer opened the first school of chiropractic in 1896 and soon started training chiropractors so that the technique spread to the extent that he opened a second school by 1903. Palmer was now calling himself a doctor that a few years previously he would have had every right to do; at the time when Chiropractic was first becoming popular though the licensing of doctors was changing. The change could have stopped chiropractic dead in its tracks and many chiropractors ended up in jail for practicing medicine without a license. Palmer continued to claim that his college needed no license as Chiropractic wasn't medicine as it was a drugless cure.
Chiropractic would perhaps have been wiped out had it not been for Dr Solon Langworthy who changed the curriculum for chiropractic courses and narrowed the field of chiropractic to ensure that chiropractuers could practice without issues. While Palmer was arrested in 1906 Langworthy continued on the development of Chiropractic.
While Langworthy was taking Chiropractic to be more scientific B.J Palmer took over his father DD Palmer's chiropractic schools and continued to bring in new students, with 1,000 students in total in the 1920s. B.J Palmer also made chiropractic more professional and bought in the use of X-Rays and other medical techniques that helped to make it more acceptable to doctors; convictions of practicing medicine without a license though continued on into the 1920s.
In the 1920s Chiropractic eventually became accepted and laws to control it were passed in most US states. Chiropractic at this time started to spread outside of the United States but meanwhile back in the US chiropractors were splitting along two lines. There were those straight chiropractors who believed in using chiropractic alone to cure illnesses and those that followed the mixed chain of thought who believed chiropractors should use other types of medicine alongside chiropractic to help cure people.
It was in the 1960s that the rise of chiropractic was again interrupted with the American Medical Association deciding that chiropractic was unscientific and should be banned, wrangling between the two sides continued and led to a legal action in the 1970s that was eventually defeated in 1987. Since 1987 chiropractic has become increasingly accepted as a treatment that works and has real value for many if not all ailments.